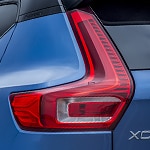 The Volvo XC40 remains the vehicle of choice among people who enjoy having a compact vehicle that provides the benefits of an SUV. Yet, the crossover also offers fuel economy in addition to a number of luxurious features inside and out.
The exterior of the XC40 is available in eight different body colors, which is accented by contrasting black trim. The body features sharp lines in combination with a sculpted lower body fascia and gives the SUV a striking appearance.
The front end features Volvo's trapezoid-shaped grille that boasts the brand's logo. The headlights have the company's iconic Thor's hammer design to separate the headlights from the daytime running lights. Owners have the option of choosing LED lighting, adaptive headlights and an automatic washing system to ensure optimal nighttime lighting. See the XC40 vehicles on display at our Cutter Volvo Cars location. Make arrangements to take a test drive.