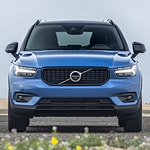 Sometimes the fact that a vehicle is compact makes people think it doesn't have enough room. That's simply not the case with the Volvo XC40 R-Design. It's a popular compact SUV known for excellent performance and comfort.
Keyless Entry

Keyless Entry in the Volvo XC40 R-Design works by simply pulling the door handle. You don't need to actually engage the key with the vehicle for it to start. The key must simply be inside the SUV for you to drive. This is an innovative feature that you'll appreciate.

Sensus Navigation

?Sensus Navigation is a robust feature that has a lot to offer drivers. This is one of many reasons why the Volvo XC40 R-Design is such a great SUV. In addition to arriving at your destination using the quickest route, it can help you find new places to explore.
Visit Cutter Volvo Cars to test drive the Volvo XC40 R-Design. You can also learn about other ways in which the XC40 R-Design makes driving an enjoyable experience.