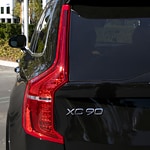 The Volvo XC90 has been the flagship of the Volvo family of cars for nearly two decades. It is built on a combination of reliability, safety, luxury, convenience and performance. That tradition carries onto through the newest XC90 model.
Under the hood, the XC90 provides a fuel-efficient engine that provides more than enough power to get the driver where he or she needs to be. This combination of attributes is attained by Volvo engineers paying particular attention to eliminating as much internal engine friction as possible. The result is a motor capable of producing up to 250 hp and 258 feet of torque. For added efficiency a turbocharger is used to add power when needed while keeping fuel economy high.
Even the best engine will not mean much without a transmission of equal quality. Volvo provides the XC90 with an eight speed Geartronic transmission that can operate as both a manual and automatic. Paddle shifters on the steering wheel allow the driver to shift manually to maximize performance. Electronic sensors also can shift the XC90 when the driver forgets.

To experience the performance of the new Volvo XC90, visit us at Cutter Volvo Cars and arrange for a test drive. Once you do, you will understand why the reputation of the XC90 is well deserved.